Extra thin film designed to lower costs, minimize labor and waste.
General Details
Techical Info
Order Enquiry
Related Products
General Details
Stretch film designed for manual wrapping made of thin or thick polyethylene film. This film can be used for a wide variety of purposes and in various widths upon request.
Main features
Thickness: 12-30 μm (Gauge 67 to 197)
Weight: upon request.
Color: clear and others.
UV protection: Optional
Widths: upon request.
Core diameter: upon request
PCR (post consumer recycled): up to 75%
PIR (post industrial recycled): up to 95%
Techical Info
Thickness
Weight
Color
UV
Core
Widths
PCR and PIR
12-30 μm
Upon request
clear, blue,

black, white,

green

Optional
Upon request
Upon request
Optional
Related Products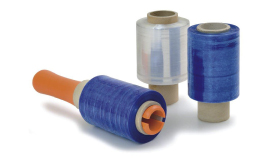 Mini rolls designed for manual wrapping and made of thin Polyethylene film with high resistance.